10% off on À la carte Menu and 8% off in Buffet Lunch and Dinner
0% Interest EMI available up to 12 months with CBC credit cards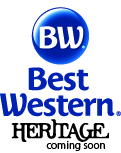 (Terms & Conditions Apply)
Offer:
35% off during peak season and 45% off during off-peak season.
10% off on À la carte Menu and 8% off in Buffet Lunch and Dinner
0% Interest EMI available up to 12 months with CBC credit card
Condition:
Except Long Weekend and Vacation.
Discount facility available both Debit & Credit cards.
EMI facility available only with CBC Credit card.
Address:
Heritage Hotel, 173-01 Bypass Road, Kolatoli Circle, Cox's Bazar.
Phone:+8801777744034 +8801777744004. Telephone : +88 0341 526 11-17.
Email : reservation@bwpheritagehotel.com
Website: http://bwpheritagehotel.com/